Cottonseed: The Cornerstone Of California Cattle Nutrition
• Posted in Articles
Even before the first light shines in the heart of California's cattle country, Tyler Batchelder MS, PAS, can be found outside, walking through cows and pulling feed samples. Whether he's home with his own herd or paying a visit to one of the countless dairies that rely on his nutrition and management expertise, Batchelder is invested in the care and keeping of cattle.
This is his world and one that he has known well since childhood. His commitment to the industry was first inspired by seeing his relatives' hard work and passion for their own dairies, eventually leading to his own role as a consultant for EDGE Dairy Consulting.
Guiding California Dairies Toward Whole Cottonseed
Early on in Batchelder's career, drought conditions in California were cause for concern for many dairy producers' feed programs. With hay prices soaring and corn and wheat silages in short supply, reliance on whole cottonseed became more common. Initially a cost-effective solution, many producers noticed both the reliability and nutritional benefits of the feed ingredient, especially those under the guidance of Batchelder's consultancy.
Since his first gig as a cattle nutritionist, Batchelder has practiced and preached feeding whole cottonseed. Beyond its apparent resilience in drought conditions, his enthusiasm for the feed ingredient has always been driven by a basic understanding of its nutritional value.
"It is the perfect cow feed," he emphasizes. "It's got a lot of protein, a lot of fiber and a lot of fat."1
Discovering The Advantages Of Feeding This Nutritional Trifecta
For Batchelder, whole cottonseed isn't just an ingredient, it is foundational for a healthy herd. Not only does his job require a strategic approach to cattle rations, but his character has turned many clients into close friends. Batchelder's relationships and appreciation for the needs of the animals combine have given him a strong reputation when it comes to feed program optimization, making his advice on essential nutrient sources particularly valuable.
Prioritizing whole cottonseed in feed programs has been a successful means of optimizing cattle rations for Batchelder, to say the least. "Many dairies have experienced significant improvements in the health and productivity of cattle, thanks to the advanced energy density, quality protein, fiber and palatability of cottonseed," Batchelder noticed.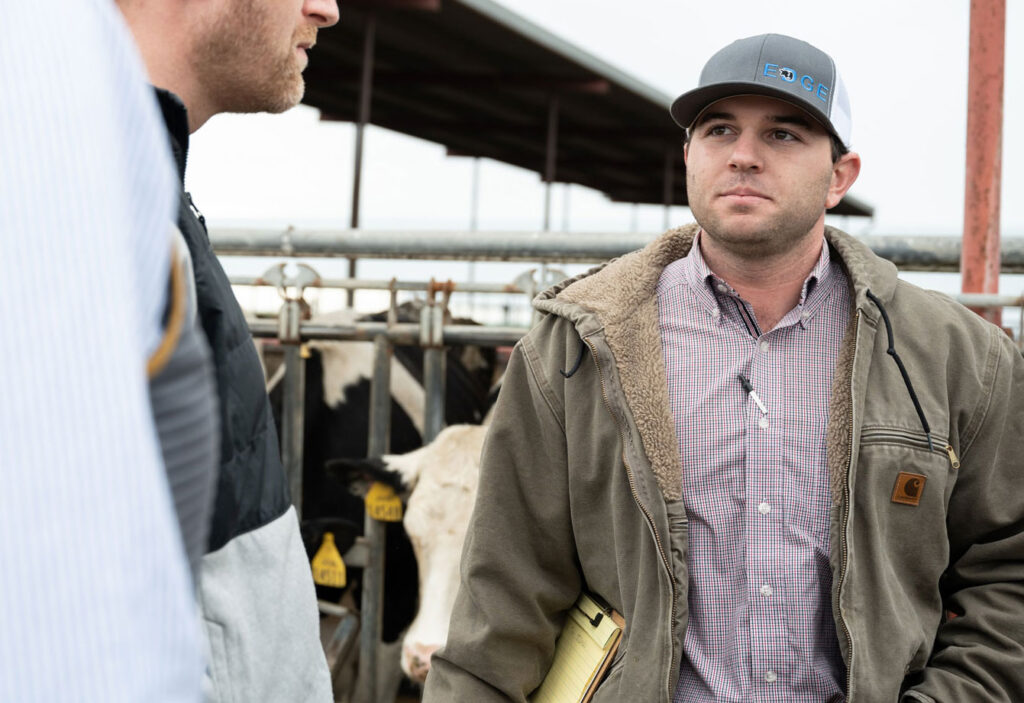 Nuggets Of Wisdom From A Seasoned Nutritionist
Being in the dairy industry comes with several challenges, many of which are an effect of working and planning in an agricultural landscape whose only constant seems to be change. With an extensive portfolio of farms and feeds in his purview, Batchelder understands the importance of staying ahead of the curve.
"Educate yourself however you can," Batchelder advises. "You can't predict everything, but staying informed is the best way to minimize risk."
His advice comes down to three key nuggets of wisdom:
Watch the markets. Changes in commodity prices and supply chains can significantly impact feed options. Keep an eye on cottonseed market trends, availability and price fluctuations that might impact your decision-making.
Make informed decisions. Use the data and expert advice at your disposal to guide decisions. While there's always an element of uncertainty, educated decisions minimize risk and are more likely to yield positive outcomes.
Work ahead. Understanding potential disruptions, whether related to weather patterns or geopolitical events, allows Batchelder to secure essential ingredients in advance. Prepare for trade impacts, shortages and price fluctuations when planning your feed program. And if it makes sense for your feed program, load up on the seed!
Sourcing whole cottonseed is direct and simple with the Cottonseed Marketplace, an easy-to-use connection point for buyers and sellers. Connect with qualified sellers that serve your area at WholeCottonseed.com/Cottonseed-Marketplace.
---
1National Research Council (2001). Nutrient Requirements of Dairy Cattle: Seventh Revised Edition, 2001. Washington, DC: The National Academies Press. https://doi.org/10.17226/9825.