Whole cottonseed – A dairy cattle show feed secret ingredient
• Posted in Articles
By: Cory Colburn, independent nutritionist for Genuine Livestock Nutrition Consulting
The feeling of entering the show ring with a dairy heifer or cow you have spent months working with is unmatched. So much time, energy and dedication is put into this animal, and this is the moment of truth to see if your hard work will pay off.
Halter breaking, learning the strengths and flaws of your animal and registering for a show are all necessary, but just the beginning of your prep work. Successful dairy showmen know the amount of blood, sweat and tears that goes into taking their show cattle from just another animal in the pen to a prize winner in the show ring.
As a nutritionist, formulating show feed diets provide a fun and unique challenge because every farm, animal and sometimes show is different. Each animal can have its own secret recipe. Oftentimes, you will see unlabeled bags in the barns with curious eyes scouring for clues to figure out how a competitor got their animal to look just so perfect to take home another victory.
Show calves are often brought to life with genetics carefully curated from time spent sifting through sire directories to match up the perfect sire and dam. While genetics play a tremendous role in the quality of an animal, thoughtful nutrition can help to improve an animal's natural characteristics that the judges will be watching for.
Whole cottonseed is a key ingredient to incorporate into a show diet to help achieve desired characteristics because it's made up of three, unique nutritional components: Protein, fiber and fat.1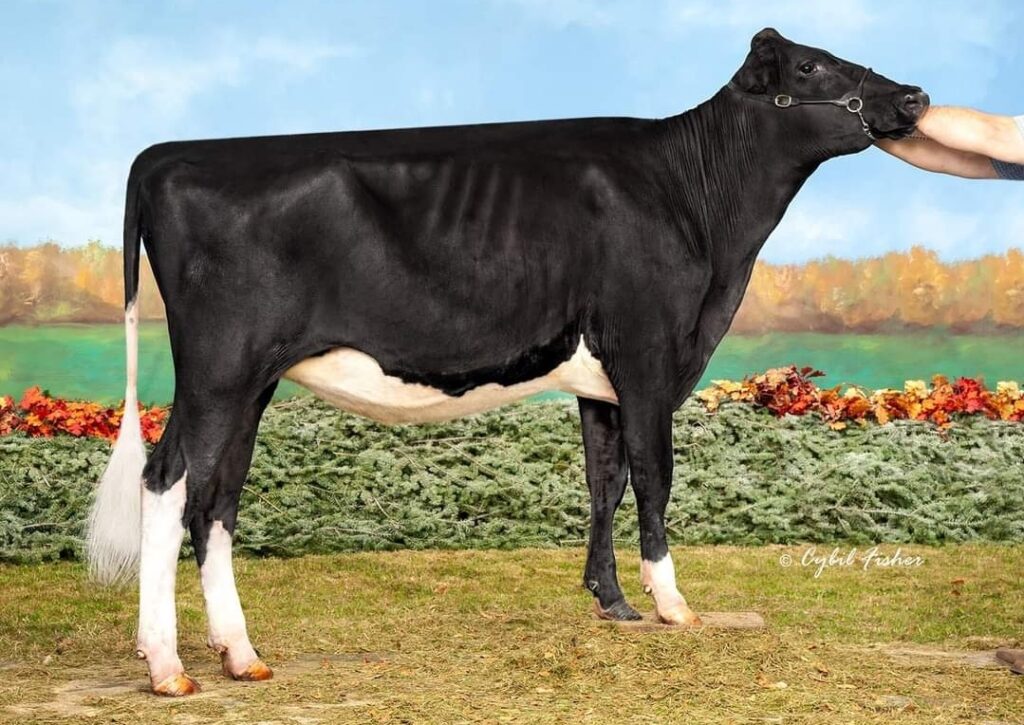 Hy-View Providence Inga
10th Winter Yearling in the Junior International Holstein Show in 2021
Owned by Aisja Achenbach
Photo credit: Cybil Fisher
All animals need protein to achieve optimum frame growth. This is true across the board, whether a show calf, traditional milking cow, steer, or anything in between. These diets and the animals consuming them need fiber to round things out. Without fiber, cattle run the risk of hay belly, which is an overly round, protruding belly created by a large proportion of the diet coming from low-digestibility hay, negatively impacting depth and spring of rib. Choosing a feed ingredient with a high protein and fiber content, like whole cottonseed, helps not only to support frame development and muscle growth, but aids in gut fill to support depth and spring of rib and a healthy rumen, respectively.
While these animals are going to enter the show ring, they are still production animals. No matter their production stage, a solid energy source is needed. The last of the three unique nutrients of whole cottonseed is fat, which provides energy. For milking animals, fat supports milk fat production, and in youngstock, fat supports growth. Obtaining more energy from fat rather than a high-starch diet can also help to reduce the risk of acidosis and other severe issues often resulting from high-starch diets.2
All animals and herds are different, but in the show industry, we individualize them even further. While an animal is born with their own genetic makeup, we have the unique opportunity to enhance and support not only her growth, development and production, but also her show-worthy characteristics through nutrition. Taking advantage of whole cottonseed's three key nutrients in your show rations is a shiny, blue ribbon in my book.
Learn more about whole cottonseed and find a local supplier at wholecottonseed.com.
---
1Kellogg, D.W., Pennington, J.A., Johnson, Z.B. and Panivivat, R. (2001). Survey of management practices used for the highest producing DHI herds in the United States. J. Dairy. Sci. Vol. 84, Supplement, E120–E127. doi:10.3168/-jds.S0022-0302(01)70206–8.
2 Krogstad, KC. Bradford, BJ. (2022) Does feeding starch contribute to the risk of systemic inflammation in dairy cattle? JDS Commun. 1;4(1):14-18. doi: 10.3168/jdsc.2022-0303. PMID: 36713120; PMCID: PMC9873822.